About Out of The Blue Licensing
For those artists and photographers interested in being represented by our company this is an outline of how our business operates.
We are essentially a small specialist artist management company exclusively representing the artist's and photographer's interests in terms of licensing intellectual property rights i.e. reproduction rights. We promote your work to specific clients we have strong relationships with as well as searching out new companies who we feel are a good match for the style of work you produce. We work with several major wall décor and fine art publishers on a regular basis and in some cases we are the preferred supplier.
We take great care only to work with publishers and manufacturers who have good reputations and who produce excellent products. We negotiate fees, royalties, samples and do all the legal work allowing the artist simply to produce. Once we have interest we inform the artist so they know who we are dealing with to keep you in the loop. Basically we issue licenses for a specific product for a specified time period, usually two to three years, in a specified territory such as N. America, or Europe or in some cases world-wide. Most deals are based on a royalty on all net sales of the product to retailers. Advances are sometimes paid for individual designs for greetings cards and stationery products.
One of the newest areas of publishing that we are also involved in is "POD" Print on Demand direct to Retail. This is fast becoming a new business model for major publishers. Artists and photographers can of course promote work on their own but getting distribution is always the problem. We have aligned ourselves with some of the key players in the industry which allows your work to be seen on some of the biggest search engines in the industry so IF your work gets chosen for this area in the publishing arena you will get massive exposure on up to 14 world-wide sites. The rest is up to the public and whether they like the work enough to purchase it.
POD is now used by all publishers involved in the Hospitality market which is for interior design projects, hotels, offices, hospitals and government projects.
One key factor which is essential if entering the fine art publishing arena is that your digital files must be of excellent quality and be able to be reproduced at 36-40 inches at 300 dpi. Each file should be checked to see if it pixelates at this size as anything not up to standard will be rejected. All files should be 300dpi RGB TIFF files.
We work on a 50/50 basis on all fees, advances and royalties generated and we cover all expenses for promotion of the work.
Michael Woodward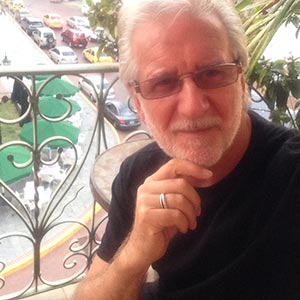 Industry veteran, Michael Woodward runs his Agency "Out of the Blue" from Sarasota, Florida specializing in fine art and photography.
"We have all had that tingly feeling in the pit of our stomach when we have a reaction to something that has shown up into our lives through serendipity. We instantly know it was meant to be. That is why our Company motto is 'Where serendipity, creativity and commerce merge'. We are the conduit that creates the perfect match between artist & publisher, to produce products that the consumer is delighted to own."
"We look for highly talented artists and photographers who can produce work in series which is either suitable for mass market home décor or work of a more fine art nature, particularly abstracts, landscapes and nature subjects suitable for the hospitality industry i.e. hospitals, hotels, restaurants, offices and Government projects etc. Nature and water subjects which relate to the environment are of particular interest as "green technology and environmental factors" now play a huge role in architecture and interior design."
Michael has licensed over $600 million in retail goods over his forty year career in the licensing industry. He has written the most comprehensive handbook available today to guide artists and photographers through the 'licensing maze' called 'Licensing Art 101'. He has spoken at seminars on many aspects of licensing and is available for private consultations on a case-by-case basis.
Jane Mason
Licensing Manager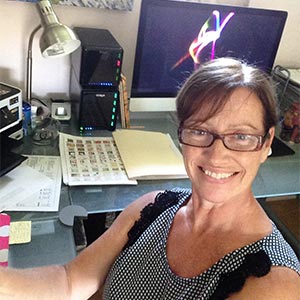 Jane Mason joined Out of the Blue in September 2007. Having moved to the US many years ago from the UK she first worked in the IT Industry. Besides looking after management accounts and royalty reports Jane is charged primarily with keeping Michael in line and making sure things run smoothly.  She is also responsible for liasing with new artists re contracts, bios etc.
"Besides being a lively personality she makes a great cup of earl grey tea, which has been a tradition at Out of the Blue for many years. Her dream of becoming a pole dancer has now been thwarted as I have made her sign a 20 year contract", jokes Michael.
Solangel Martinez
Art Coordinator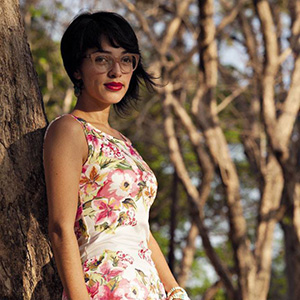 Solangel's two great passions are design and fashion.
She creates her own hand-painted shoe line, Solangel Unique shoes, which she sells in Panama. Solangel really enjoys her work as a designer which gives free rein to her creativity. She has now joined Out of the Blue, part time as Michael's Art Coorinator handling all the Hi resolution images for clients.
Erin Sparler
Assistant Licensing Manager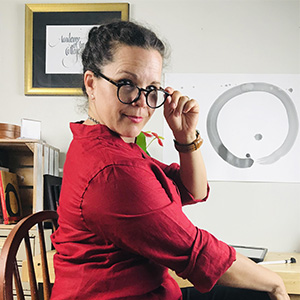 As Out of the Blue's Assistant Licensing Manager, Erin is responsible for licensing art for products other than Wall Décor i.e. stationery, jigsaws, home accessories and giftware etc.
She is a former college professor of the art. With over 12 years of teaching experience and has taught over 200 classes in art, design, photography and art history. Erin is also an accomplished artist in her own right. Using her extensive teaching experience she creates classically informed art with a modern twist.